The EnvTech Process
We have developed the safest and most efficient process available for process equipment cleaning & decontamination utilizing a wide variety of applications (liquid-phase, vapor-phase or combination-phase).
Most chemical cleaning contractors rely on a three phase procedure using degreesers or acids for polymer and scale removal, followed by an additional wash for neutralization.
Our cleaning process includes a single-phase neutralization and cleaning step. This can be achieved in most cases within 48 hours. All the chemicals involved are completely non-flamable, non-corossive, non-hazardous and environmentally-friendly.
When this single-phase cleaning process is finished, the unit is ready for maintenance, including entry permits and hot-work permits, with no additional preparation or additional time wasted.
The EnvTech process is built on a foundation of knowledge, skills and chemistry that collectively bring every project to a successful completion.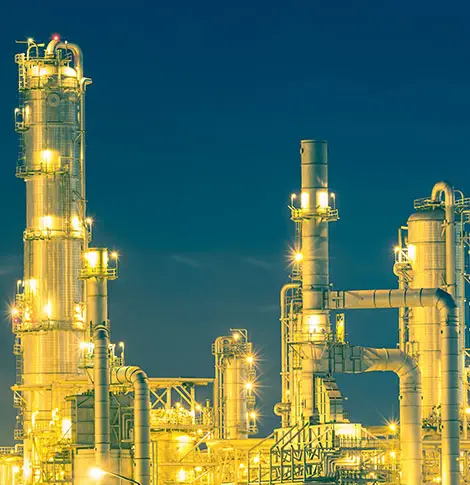 Consulting, Supervision & Oversight
We also offer consulting and project oversight services in cleaning of tanks (and other types of liquid receptacles), and in treating of the waste generated for easier (and more economical) disposal (or recycling). A program to optimize tank cleaning practices, as well as waste treatment and disposal practices includes:
Data collection on all tanks to be cleaned in the near future

A review of past practices for cost-effectiveness

Evaluation of the environmental risks of the prior tank cleanings,/li>

Selection and optimization of methods for each tank to be cleaned including  the treatment and disposal of any potential waste

Assistance with contractor selection and project oversight

Our personnel can provide expertise and unique technologies to resolve emulsions in product or waste tanks, with emphasis on removing solids from the tank (in the oil or water phase) rather than depositing them on the tank bottom
Your First Choice
We offer many other services, including process unit startup and shutdown assistance, operator training, process troubleshooting, assistance with emulsion problems, on-stream (or semi on-stream) chemical cleaning procedures and unique, non-corrosive water side cleaning procedures.
References are available upon request.
All inquiries and evaluations are performed in strict confidence. All information obtained and results produced are presented to the customer representative. Please contact us for your free evaluation and estimate.